RTIRN FOURTH WEBINAR
On April 12th of 2012 at 8:00 hrs––(CST Mexico Time) it took place the RTIRN`s fourth webinar entitled "Road Traffic Safety and Law". With the participation of Ms. Evelyn Murphy the World Health Organization (WHO).
Ms. Evelyn Murphy talked about what does road safety law refer to? How has legislation been effective as part of a complete road traffic safety programme package – particularly high income countries. The problems with legislation that have emerged, what makes RS legislation good (evidence based, complete, few loopholes, etc.) and What we can do in public health: Focus not only on research but also look to laws to assess if they take into account and reflect best practice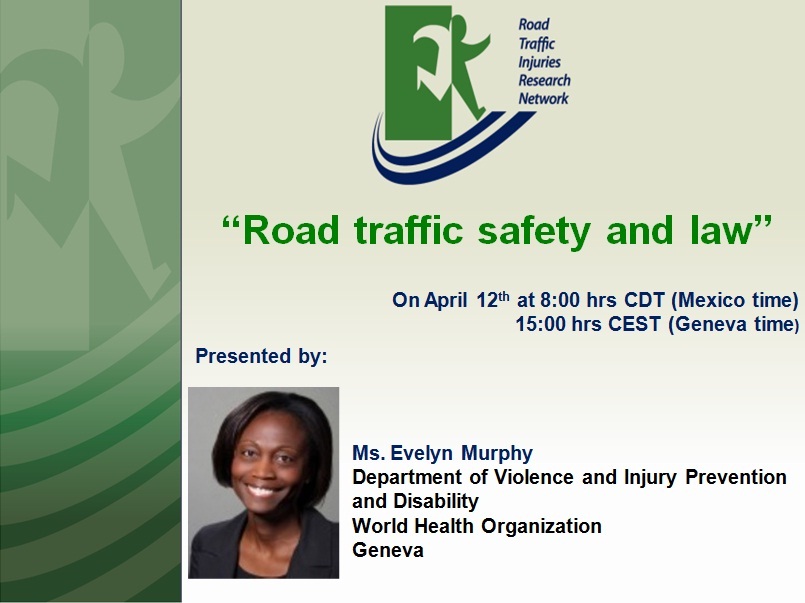 We are very proud of this accomplishment. We thank all our partners that supported us in this very important date for our network. If you couldn't attend the webinar, you can access the webinar in the following link:


https://insp.webex.com/insp/ldr.php?AT=dw&SP=TC&rID=58572242&act=pf&rKey=2e941cb31e644ae6

Presentation
Legislation: The end or means to road traffic safety?
Contact

Ricardo Pérez-Núñez,
Tel: +52 777 1023946
Email: secretariat@rtirn.net

About RTIRN The Road Traffic Injuries Research Network (RTIRN) is a partnership of more than 517 individuals and institutions from 63 countries that collaborate to further research into the impact and causes of road traffic injuries in low and middle-income countries, and to identify appropriate interventions to the problem. RTIRN's vision is to reduce the burden of road traffic injuries through the promotion, conduct and utilization of research. For more information about RTIRN, please visit www.rtirn.net.